The concert hall - a hall to be inspired by
In all concert halls that are intended for symphonic music, the acoustics are of great importance. Good acoustics means that the audience gets greater experiences of the music that is played, while the orchestra gets better conditions on stage.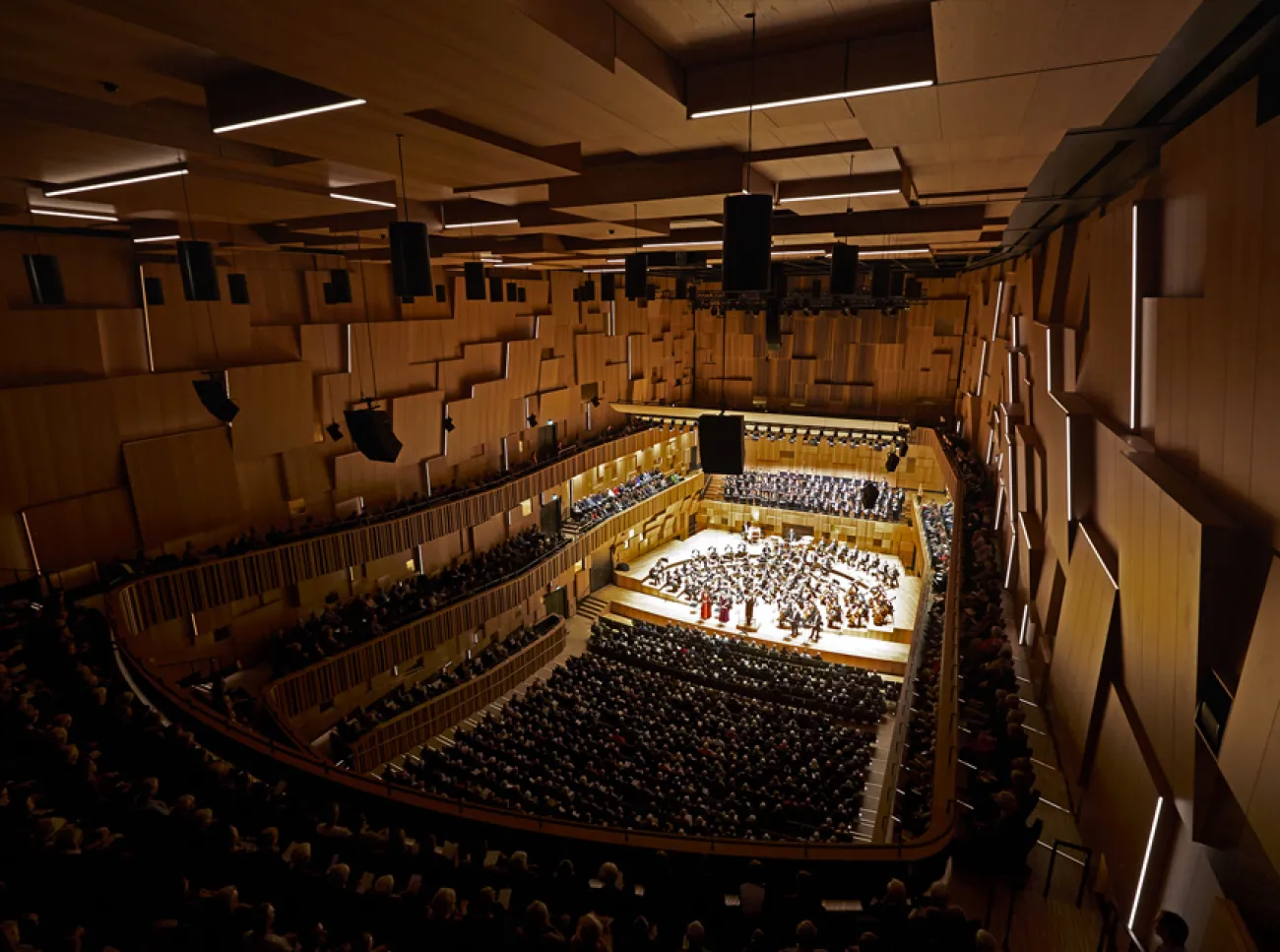 In the new concert hall, the orchestra members hear each other better and the communication between the orchestra's different sections has been strengthened, which has meant that Malmö Symphony Orchestra has developed a lot since moving to Malmö Live 2015. Malmö Live acoustician Jan-Inge Gustafsson is very pleased with the concert hall and the entire construction process around Malmö Live.
- The main reason why the hall was so good is the great commitment from Skanska, which during construction had acoustics as its main priority. Skanska contacted me even before the decision on an architect was made. The effort put into the design meant that the expectations that initially existed for the sound in the Concert Hall could be exceeded.
That the concert hall at Malmö Live has a pleasant, warm sound is something that CEO and concert hall manager Jesper Larsson often hears from visiting musicians and artists.
- Virtually everyone who visited us has showered me with praise for the concert hall's acoustics and told me how fantastic it is to perform there. It started already at the opening concert with trumpeter Håkan Hardenberger and soprano Lisa Larsson and since then it has only continued. Pianist virtuoso Yuja Wang and the London Symphony Orchestra, for example, said they would like a hall like ours in London. The world tenor Juan Diego Flórez said that he could sing for as long as he wanted in our hall and Philip Glass expressed that from now on he wants to perform all his concerts in Malmö and bring the audience here, so that they would have a perfect experience of his music, says Jesper Larsson and laughs.
Staffan Andersson, who was Skanska's project manager during the construction of Malmö Live, remembers with warmth the first time Malmö Symphony Orchestra played in the concert hall.
- It is the biggest moment in my professional career. The hall was full and the audience consisted of the people who worked on the project. There were many proud craftsmen; blacksmiths, electricians and carpenters. When the music filled the hall, we all understood that we had been involved in creating something unique.
Facts
Seats 1,607 + 100 in the grandstand
Scenyta 274 sqm
Internal ceiling height 21 meters (like Lund Cathedral)
Wood species Oak
Reverberation 2.2 seconds (can be reduced to 1.5 seconds if necessary)
Volume 22,000 cubic meters
Width and length 22 x 50 meters
Speakers Nearly 100 scattered around the hall
Reflector 150 sqm, variable
Architect Schmidt / Hammer / Lassens Architects
Acoustician Jan-Inge Gustafsson, Acoustic Icon
Acoustic model Musikverein in Vienna