About Malmö Live
In August 2015, the opening of Malmö Live provided Malmö with a long-awaited concert hall with world-class acoustics, and the Malmö Symphony Orchestra with a new home with several more flexible stages.
Malmö Live's facilities include two concert halls, a conference centre and a hotel with 444 rooms, and offers something for the whole family. Clarion Hotel & Congress Malmö Live operates the hotel and the conference facilities, while we – Malmö Live Konserthus AB – are responsible for the concert hall with Malmö Symphony Orchestra.
A social and cultural meeting place
Malmö Live is open to all generations and genres. The concert halls feature the latest technology and fantastic acoustics that make the building just as attractive for the contemporary performing arts as for concerts. There is also a place for contemporary circus, dance, DJs, exhibitions, clubs, lectures and discussion groups. Malmö Live is a flexible facility with a tangible pulsebeat and warmth, where different events often take place on several stages at the same time – both in the main building and in our outdoor bar and restaurant and on the large canal-side boardwalk. 
At Malmö Live Concert Hall, we work with live music and enhanced musical and other artistic experiences – programmes and events that stretch to the outer reaches of music, yet retain their musical starting point or connection.
The company - Malmö Live Konserthus AB
The Concert Hall at Malmö Live is run by Malmö Live Konserthus AB, a wholly owned subsidiary of the City of Malmö. We conduct concert activities with grant support from the City of Malmö, Region Skåne and the State. Click in to read more about the company, see our board and delve into our annual reports.
Business looking for colab?
With an open and inclusive program that is of interest to the outside world, Malmö Live is an attractive partner and enabler for companies that sincerely want to be committed to improving society together with others.
History - What happened and why?
Since the inauguration in 2015, Malmö Live has been a meeting place where culture is in focus for both Malmö residents and visiting visitors. Here you can immerse yourself in the decisions that led to the start of construction and the process to the neighborhood opened.
New home for the Malmo Symphony Orchestra
As the new home of the Malmö Symphony Orchestra (MSO), symphonic and classical music has a given place at Malmö Live. 
In the new concert hall at Malmö Live, the orchestra has been provided with fresh and fantastic possibilities to both perform and develop. Malmö Live will revitalise the role of symphonic and classical music while at the same time creating the scope for high-profile, cross-border musical collaborations. Malmö Symphony Orchestra has close to 100 orchestra members who perform a new concert each week; either under the direction of chief conductor Marc Soustrot or guest directors, and often together with soloists from all over the world. Malmö Symphony Orchestra also invites world-renowned artists to take part in the "MSO Featuring" series, offering concert-goers at Malmö Live unexpected and fantastic experiences.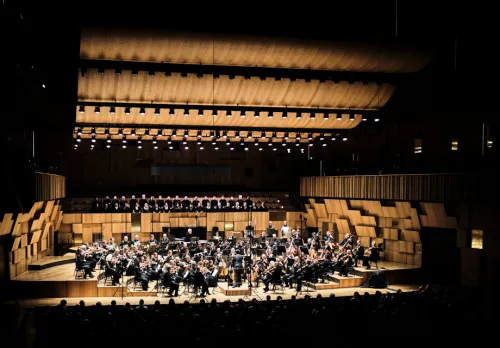 We are Malmo Symphony Orchestra
The symphony orchestra consists of almost 90 musicians at the highest level who, with a new concert every week, excel in a rich and varied range.
Learn more about Malmo Symphony Orchestra
Malmö Symphony Orchestra is a proud tradition bearer of the symphonic repertoire, but also strives to take it further into the future.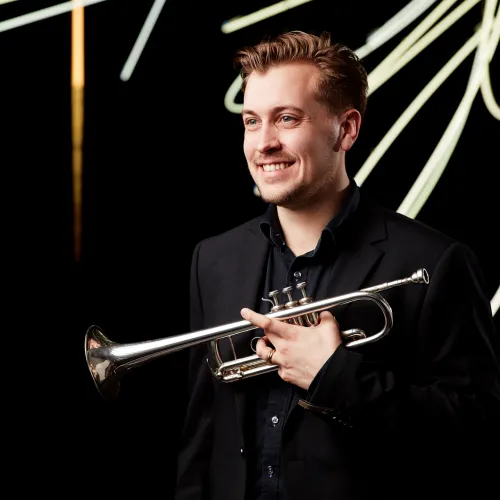 See upcoming concerts with the orchestra
Eager to listen to symphonic music? Click here to get to a program list where all or parts of the musicians in Malmö Symphony Orchestra play. In the picture: Gustav Melander, trumpet.
Congresses, conferences, meetings & events
Malmö Live is a unique facility, with the wholly-owned municipal company Malmö Live Konserthus AB and commercial partner Clarion Hotel & Congress Malmö Live operating under one and the same roof. 
With a 444-room hotel and capacity for 1,500 guests in the main conference hall, as well as additional parallel meetings in the other conference facilities, Clarion Hotel & Congress Malmö Live is a facility beyond the scope of anything previously seen in the region. The flexible facilities pave the way for new and wide-ranging events in many different forms, with every detail customised down to the minutest detail.
Restaurants at Malmö Live
An à la carte restaurant where Manhattan meets Malmö, Latin American street food or a luxurious drink 85 meters above sea level? Welcome to the restaurants at Malmö Live.
Clarion Hotel & Congress Malmö Live
With 444 rooms Clarion Hotel & Congress Malmö Live is one of the biggest hotels in Malmö. Click in to read more about it!