Clarion Hotel & Congress
With its perfect location next to Malmö Central Station, just steps from bustling Lilla Torg, you'll find culture, shopping, nightlife and parks right on your doorstep. And you'll also have wonderful views and proximity to Malmö's Ribersborg beach.
You can reach beautiful Copenhagen via Malmö City Tunnel in just 35 minutes. If you're a fan of architecture and enjoy both old and new, you can visit Malmöhus Castle and the Turning Torso skyscraper within walking distance of the hotel.
Hotel, Congress and conference
Clarion Hotel & Congress Malmö Live is located next door to Malmö Live Concert Hall and offers 444 stylish hotel rooms with Scandinavian design and large windows. If you live on some of the higher floors, you can look out over the Sound and Malmö's city pulse. The middle part of the building offers 23 meeting rooms, which spread over five floors and are surrounded by inspiring open spaces perfect for coffee and mingling. The meeting rooms can offer capacity for anything from 2 participants to 1500, which will be the city center's largest facility.
The hotel gym offers group exercise and a traditional sauna. We also have personal trainers on site. If you prefer to go jogging outdoors, the beautiful Slottsparken park is within walking distance. Just ask at reception and we'll help you find the best jogging trails!
Read more about Clarion Hotel & Congress Malmö Live on their own website, found at nordicchoicehotels.com
Restaurants and skybar
Are you in the mood for some Latin American street food? Or an exciting fusion of Scanian ingredients and Manhattan flavours? Perhaps you'd like a luxurious drink in our sky bar, 85 metres above sea level? Marcus Samuelsson, one of the most successful chefs in the world, is responsible for the delicious food in the restaurant and has developed two restaurant concepts – Kitchen & Table and Eatery Social Taqueria.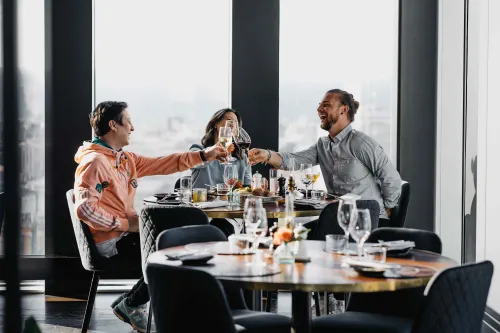 Kitchen & Table
Welcome to the sky bar in Malmhattan! The meeting place for the Malmöite and the global traveler, and also for the food culture from Manhattan and Malmö. Here, local ingredients mingle with multicultural taste favorites from Manhattan and Möllan on the same plate and the result is an unusually appetizing alliance.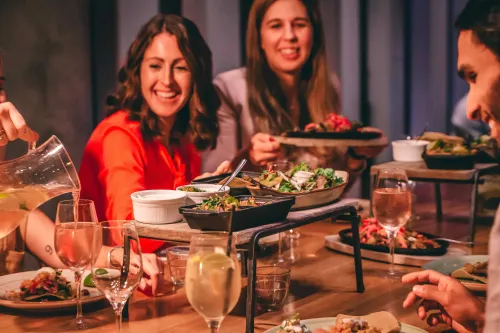 Eatery Social Taqueria
Eatery Social Taqueria has clear influences from Mexico, the USA and Malmö. Here you can expect a mix of traditional Mexican cuisine with street food from LA and Malmö.
There are even more restaurants in the block
Within the Malmö Live district, there are several restaurants with something for everyone. Next door to us you will find Malmö Saluhall with a large selection of food, coffee and food. Within a radius of a few hundred meters there are several eateries, including the food court at Malmö Central.
CLICK HERE TO READ MORE ABOUT THE RESTAURANTS AROUND MALMÖ LIVE